---
At Metamorphosis we create natural skin care products using the finest ingredients that nature can provide .
Miracle Hand Cream is made with our herbal recipe that has been passed down through three generations 
Our Grandmother's German folk medicine helped heal a lot of cuts and scrapes. We have carried on making this traditional botanical oil and we infuse it into each batch of Miracle Hand Cream.
We have added not one, but two moisturizing butters   Shea butter and Cocoa butter are blended into our botanical healing oil. Pure essential oil's are added for scent and for those that prefer no scent we have created a scent free Hand Cream with Hemp Seed oil. Miracle Hand Cream is all natural and non- greasy and works quickly and effectively to help heal dry cracked hands.
Metamorphosis Body Scrubs are created to evoke memories and transport your senses to exotic destinations. The lavender fields of France, a summer in Muskoka, or an espresso in a quaint Italian village.
 We start with mineral rich sea salt to exfoliate and leave your skin feeling revitalized and smooth.

We add Shea butter , hydrating oils , fruit extracts , botanicals and plant extracts to create the best exfoliating , and moisturizing body Scrubs.
Metamorphosis products are vegan, cruelty-free, with no synthetic fragrances, or additives, just aromatic essential oils to treat the senses and revitalize your spirit.
We choose to partner with small sustainable suppliers and local farms that grow responsibly and ethically.
We hope you love our products as much as we love creating them. Join us be a part of our journey as we learn about different cultures, unique ingredients and natural beauty. ~🦋
---
Miracle Hand Cream
Miracle Hand Cream  is made with moisturizing  Shea butter and Cocoa butter and soothing allantoin ,and vitamin E. Soothing Calendula extract is added to help relieve redness and irritation. Pure Lavender essential oil is added for scent and is soothing and calming  for sensitive skin and safe for children's skin. Lavender...
---
View Product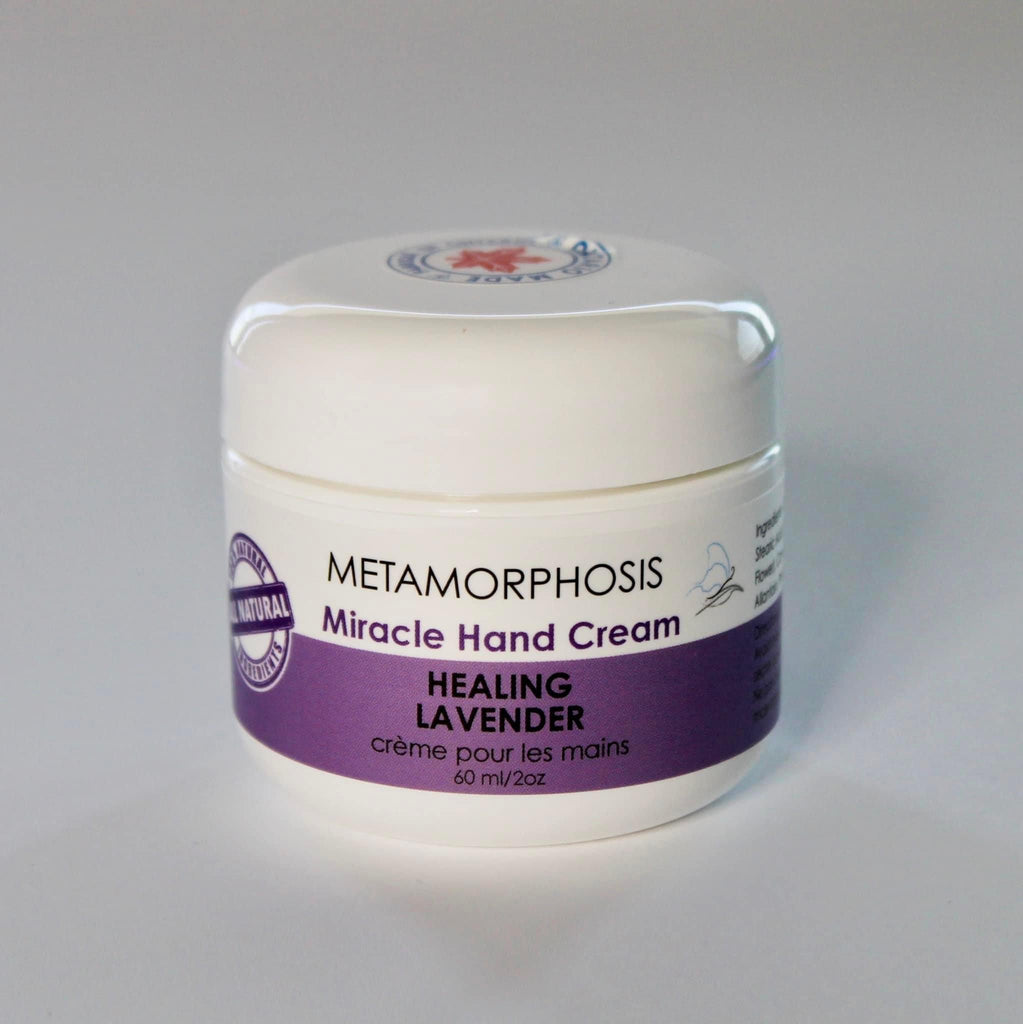 ---
Metamorphosis Skin Care Products